Beauty is Our Business and We Do it Better!
At Parks Dermatology Center, we provide our patients with the latest innovations in non-surgical facial rejuvenation, body contouring and resurfacing procedures. Our nationally recognized team, look forward to helping you achieve your overall aesthetic goals. Contact us to schedule a consultation today.

---
Our Featured Services
Chemical peels remove damaged outer layers of skin on the face to smooth texture, reduce scarring, and remove blemishes to produce healthy, glowing skin. There are several types of chemical peels, ranging from mild to strong – alphahydroxy acids (AHAs) to trichloroacetic acid (TCA) – and formula strengths are tailored to each patient. Peels can be combined with other procedures such as facelifts for a younger look.
Types of Chemical Peels
AHAs are the gentlest of the three types of chemical peel. They consist of a group of glycolic, lactic and fruit acids that smooth and brighten skin by treating fine wrinkles, dryness, uneven pigmentation and acne. Treatment takes 10 minutes or less. Patients may choose AHAs if they do not want the lengthy recovery time of a TCA peel. Occasionally AHAs, Retin-A (a prescription medication containing Vitamin A) or hydroquinone (a bleach solution) are used to thin the skin and even its tone as a pre-treatment for TCA peels.
TCAs are commonly used for medium-depth peeling (though depth is adjustable) to treat fine surface wrinkles, superficial blemishes and pigment problems, sometimes in combination with AHAs. TCAs are the preferred chemical solution for darker-skinned patients and may be used on the neck and other areas of the body. Results are often less impressive and do not last as long, and multiple treatments may be required, but treatments only last 10-15 minutes and recovery time is shorter.
The Procedure
Chemical peels may be performed in a our office. Anesthesia is not required because phenol and TCAs act as an anesthetic while AHAs produces only a slight stinging.
In an AHA peel, the skin is cleaned and the solution applied; there is no need for "after-peel" ointment or covering. During TCA peels, the skin is cleansed and solution is applied, which may cause a brief stinging sensation. Petroleum jelly or a waterproof adhesive tape may be put on the skin following a phenol treatment.
After the Procedure
AHA peels can cause temporary stinging, redness, irritation and flaking or crusting. Phenol and TCA peels can result in tingling or throbbing, reddened skin, a crust or scab, and significant swelling which lasts about a week, depending on the strength of the peel used. All procedures require adequate sun protection for your new skin.
All treatment types carry potential risks such as infection and scarring. In addition to the after-effects listed above, TCA peels may produce some unintended color changes in the skin that must be protected from sunlight.
Mini Melange Skin Lightening Peel
The Mini Melanage Skin Lightening Peel is an effective treatment option for patients with uneven skin tone, pigmentation or melasma. This procedure is performed in your doctor's office, and involves applying a masque to the affected area for several hours. Patients can go home once the mask is applied, and then wash it off later at the designated time.
After the Melanage Skin Lightening procedure, patients often notice a significant appearance in the pigmented areas of their skin. Results may vary depending on each individual patient, but most are satisfied with the results of the procedure. Patients often experience peeling after treatment, although this usually goes away on its own within a few days.
This treatment can be used safely by many patients, but should not be performed on patients with active cold sores, open wounds, sunburn or excessively sensitive skin. Patients who have taken Accutane® within the last year should also not undergo this procedure. Your doctor will decide whether or not this treatment is right for you after a thorough evaluation of your condition.
Note: It's never a good idea to buy skin care products online without doing your research. You can make your skin condition(s) much worse. Here at Parks Dermatology we have experienced skin care professionals to help you figure out the best plan of treatment for your condition(s) and to help treat it. Click here to find out why it's better to do your research and maybe seek out a professional when dealing with skin care products and treatment.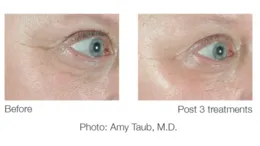 The eMatrix system with Syneron's unique Sublative™ treatment goes beyond fractional methods of skin resurfacing. The system utilizes Sublative RF™ – fractionated bi-polar radio frequency technology – to place the heat energy effectively into the dermis where it can produce significant dermal impact with minimal epidermal disruption. Post treatment, new collagen and healthy skin cells are produced. Mild to moderate wrinkles and superficial imperfections of your skin's tone and texture are reduced.
Typical treatment protocol is 3 treatments, 4-6 weeks apart. The total number of required treatment sessions depends on your skin's condition.
Diamond Glow is a patented, non-invasive 3-in-1 dermatological treatment that simultaneously Exfoliates - Extracts - Infuses your skin with condition-specific serums for an all-inclusive treatment in one step. It is the first and only critically-timed, exfoliation-to-serum treatment technology with optimal-depth delivery for immediate and long lasting results on all skin types - with no DOWNTIME.

Diamond Glow is the instant and long-term solution for improving: Hyperpigmentation, Dark Spots, Sun Damage, Dry, Dehydrated or Shallow Skin, Enlarged Pores, Oily-Prone and Congested Skin.
Dermaplaning is an exfoliation and skin rejuvenation treatment that gently removes the top layer of dead skin cells and facial hair (a.k.a. peach fuzz), resulting in more radiant, soft and smooth complexion. A light peel is applied at the end for a fantastic glow!
What to Expect:
Your makeup goes on better - dermaplaning helps your makeup go on more smoothly and stay on longer.
Better Product Penetration - by removing the top layer of dead skin cells, your daily topical products can now go deeper into the skin instead of just sitting on the surface.
Improves Hyperpigmentation - revitalizes the skin by immediately improving tone and texture.

Aging Skin -The exfoliation of the skin from dermaplaning promotes the production of collagen and elastin, helping to improve the appearance of signs of aging and scarring.

GORGEOUS BROWS
AWAIT YOU!

Microblading is a semi-permanent makeup that deposits pigment into your skin using a small blade, drawing out hair-like strokes. This is a popular and convenient way to enhance your existing brows.
A consultation is required prior to scheduling a treatment. Click on the Consultation Button located at the bottom to schedule an appointment.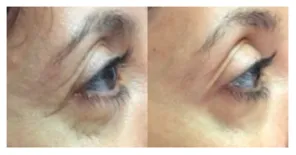 Microneedling (also known as Collagen Induction Therapy or CIT) in a new innovation in aesthetic medicine for the treatment of the appearance of fine lines, acne scars and improvement of the skin's texture, tone and color. During this procedure, tiny needles are used to create controlled micro-injuries to the skin in order to aid in the production of collagen and elastin. The skin's repair process results in a thicker epidermis with a softer appearance of wrinkles. It is recommended for most patients to receive a series of 3-6 treatments spaced 4 weeks apart.

The Plasma Concepts Pen is the world's leading plasma application device for the appearance of wrinkles, aging, skin laxity, tone and texture. This cosmetic procedure is administered by a licensed, trained and insured certified plasma technician. Plasma Concepts can unlock skin's potential for youthfulness and tighter, smoother skin in just one treatment with long lasting results and high patient satisfaction.
NON-SURGICAL AND MINIMALLY INVASIVE
The Plasma Pen promotes skin tightening using a continuous direct energy source; ionize nitrogen and oxygen in the air to create a plasma gas. During the procedure, a tiny plasma flash is being discharged from the tip of the plasma pen device. Device Demonstration Video Immediate results that will continue to improve significantly over the coming months.
View Before/After Photos: plasmapen-usa.com

Consultations are Available

Profound is a revolutionary new energy-based facial treatment designed to create new elastin, collagen and hyaluronic acid – the building blocks that keep your skin smooth and elastic. Without surgery, fillers or toxins, Profound dramatically improves aging skin. By carefully heating the skin's elastin and collagen to an exact temperature for an exact amount of time, Profound leads to the creation of new elastin and collagen to repair aging skin. Video: Why Choose Profound?

The Profound treatment promotes natural production of new elastin and collagen and other components of healthy skin over time. Most patients report seeing improvement 6-8 weeks post treatment. Because new elastin and collagen require time to fully develop, optimal results will not be observed for at least 3-6 months after treatment. However, there are a number of factors that will determine how long you can expect the results to last, including your health, age, and how you care for your skin after the treatment.
What is elastin?
Elastin is a protein that coils and recoils like a spring within the elastic fibers of connective tissue in the body – like your skin. Elastin is what makes your skin, heart, lungs and many other tissues elastic so that they can get snap back into shape after stretching or contracting.
Why is elastin important?
Elastin works together in your skin with collagen. Elastin provides elasticity and collagen (another protein in your skin) provides structure to keep your skin smooth and firm.
What is the effect of a lack of elastin as we age?
Starting in our mid 20's, elastin starts to break down and become less elastic and lose its spring… think of a lumpy mattress as the springs become old and lose their ability to recoil.
How do you build new elastin?
Elastin is normally no longer made after puberty and aging begins. In order to build new elastin, you need to cause a certain amount of damage to the skin by heating for example, so that the elastin starts to break down. Then a healing process can begin to build new elastin.
A Non-Surgical Alternative For Treating Hair Loss and Skin Rejuvenation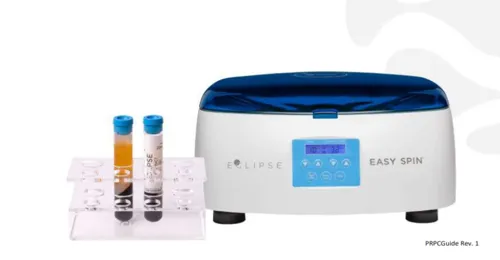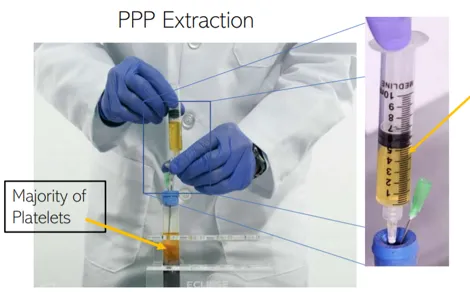 What is Platelet-Rich Plasma: PRP is a concentrate of platelet-rich plasma protein within your blood. These platelets, when separated from red and white blood cells, contain growth factors that can trigger cell proliferation, speed healing, and stimulate tissue regeneration in the treated area(s).
How Does It Work: Blood is drawn from the patient's arm into a test tube which is then placed inside a centrifuge. The centrifuge separates the plasma from all the other blood components resulting in a layer of hyper-concentrated plasma platelets at the top of the test tube. Then, the plasma rich platelets are then transferred into a small syringe and re-injected into the patient's treatment area(s).
PRP Treatment For Hair Loss: This therapy is suitable for both men and women who are experiencing pattern baldness but are not completely bald. Plasma has numerous growth factors that contribute to hair regeneration which can lead to alterations in the hair cycle and improvement in overall growth. Treatments for hair loss requires monthly sessions; results are most noticeable after at least six months.
PRP Treatment For Skin: For immediate skin rejuvenating results, your dermatologist can inject with filler or in combination with micro-needling treatments. PRP releases growth factors into the skin to expedite the body's own repair process and naturally stimulates the production of new collagen and elastin.
VelaShape III is the perfect, non-surgical answer for treating those 'problem areas' that cause women to feel so displeased about their body image. It can be used for the abdomen, arms, thighs and neck.
VelaShape III is a unique, easy to use, no downtime, comfortable, deep therapeutic body contouring treatment that delivers enhanced clinical protocols with consistent results that can be reproduced time after time.

This video shows how the machine works to shrink and the area surrounding them. Velashape III video Three treatments are needed, results last up to a year. You can keep your results by boosting it with one maintenance treatment after a year.

UltraShape Power is the first and only FDA-cleared, non-invasive body-shaping procedure that uses focused, pulsed ultrasound for selective fat cell destruction. It is unlike any other body-sculpting technology available.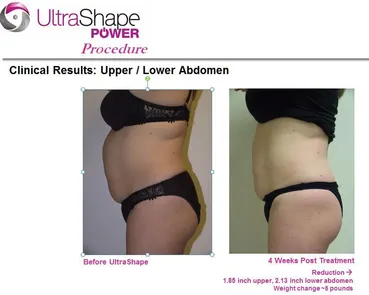 Unlike liposuction, UltraShape Power is non-surgical—which means no incisions, anesthetics or recovery time. And unlike other fat-reduction procedures, UltraShape is painless for most people and leaves no visible signs of treatment. So you can receive a treatment, then hit your yoga class the very same day. This video shows how the machine breaks down unwanted fat deposits for the abdomen, outer thighs and flanks ULTRASHAPE VIDEO.
All you're left with are smooth, contoured results, often seen as quickly as 2 weeks after the first treatment. This is one reason UltraShape Power has a RealSelf rating of over 90%.
UltraShape Power eliminates fat cells permanently. It differs from weight loss, which can only shrink fat cells. What UltraShape Power won't do is cause you pain or harm surrounding tissue, nerves, or muscle. In fact, a recent clinical study showed 94% of people treated were satisfied with their results. The result is 1-2 dress sizes or up to 32% Fat thickness reduction in the treated area.
We Proudly Offer These Medical Grade Skincare Products.