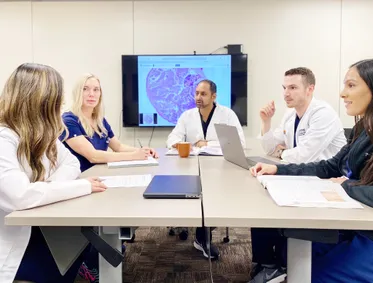 ---
COLLABORATIVE & INNOVATIVE DERMATOLOGY CARE
Parks Dermatology Center is proud to announce their recent designation as a premier teaching facility. In an exclusive partnership with Orange Park Medical Center our team, under the direction of Dr. Karthik Krishnamurthy, will be providing
clinical graduate medical education to physicians completing their specialty training in Dermatology. At each office visit you will be seen by both the resident physician and Dr. Krishnamurthy.
Providing Treatment For Advanced or Challenging Skin Conditions:
- Immunobullous Disease
- Vitiligo
- Lupus Erythematosus
- Scleroderma
- Severe Psoriasis
- Severe Atopic Dermatitis
- Hidradenitis Suppurativa
- Drug Reactions
- Contact Dermatitis/Patch Testing
- Cutaneous Vasculitis
- Severe Acne and Rashes

Complex Clinic Benefits:

Dedicated pre-visit preparation by your physician-team
Longer allotted appointment times allowing for thorough examination and discussion
Innovative treatment approach utilizing University access to scientific research databases, textbooks, intraprofessional conferences, and grand rounds discussions
Access to cutting-edge medications, highly-specialized diagnostic tests, and the latest technologies
Collaborative care with your primary care and specialist physicians
Continuity with close monitoring and 24-hour mobile phone access to your physician
---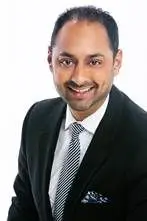 Dr. Krishnamurthy is a board-certified Dermatologist and member of the American Academy of Dermatology and Past President of The American Osteopathic College of Dermatology. He is an
expert in complex medical dermatology, especially psoriasis, vitiligo, auto-immune diseases (lupus),
as well as dermatologic surgery and cosmetic/injectable surgery.

Chief of Dermatology
Associate Professor
Residency Program Director, Mercer University/HCA/Orange Park Medical Center
Past President, American Osteopathic College of Dermatology
Co-Founder, Pearl Podcasting: The Derm Edition
Co-Editor, Textbook of Emergencies in Dermatology
Dr. Krishnamurthy practices at our Palm Coast office location.
To Schedule an appointment call (386) 677-9044 or click on MAKE APPOINTMENT.